Our Classes
In The Ever After -- What Fairy Tales Tell Us About the Second Half of Life
with Michael Connolly

Oct 17, 2023 at 10:30 am

, runs for 5 weeks
Schedule:  
This course will take place at the Arlington Counci on Aging (27 Maple Street, Arlington) every Tuesday (10/17 - 11/14) from 10:30 AM to Noon.
Description:
For at least 6,000 years humans have told and retold Fairy Tales; they number more than 5,000 world-wide. Portraying universal dilemmas and challenges and their resolution (happy endings), Fairy Tales have endured because they have universal appeal. And yet, they focus overwhelmingly on youthful heroes and heroines. Jungian therapist Allan Chinen estimates that 10 percent of fairy tales feature middle-aged protagonists while barely 5 percent feature elderly protagonists. To some extent, this reflects modern commercial civilization which values innovation and evolving technologies. Allan Chinen, in "In the Ever After," presents 15 tales featuring elder protagonists along with insightful commentary. In contrast to heroic tales of audacity, strength, and achievement, elder tales offer lessons in maturity, self-knowledge, and wits. The path from mere old age to being an Elder involves significant developmental challenges and brings the boons of agency and the return of innocence and lightness. As we read Chinen's tales we will journal, harvest our experiences, honor the sages we have met, and be alert to helpers and resources that may be hiding in plain sight.
Course Leader:
Michael Connolly has taught, coached and led staff retreats for over 50 years. Settings and topics include university freshman French, daily living skills for developmentally-delayed adolescents, teamwork and innovation in non-profits and educational institutions, cross-cultural communication in the workplace, and meditation. In 1991 Michael wrote and published the story of his friend and colleague, Bob Rimer, living with AIDS and managing the topsy-turvy world of HIV treatment while keeping a sense of humor. In 2007 he led the founding of Stonewall Communities Lifelong Learning Institute. He is passionate about languages, cultural and intellectual history, memoirs, creative aging, gardens, Paris, Jung, and golden retrievers.
Course Materials:
In the Ever After - Fairy Tales and the Second Half of Life  by Allan B. Chinen
Assignment before the first class:
Read pp 1 - 30 in Chinen, In the Ever After.
Will run
Sapiens: A Brief History of Humankind
with Jessica Bethoney

Oct 17, 2023 at 1:30 pm

, runs for 5 weeks
Schedule:  
This course will take place at the Arlington Council on Aging (27 Maple Street, Arlington) every Tuesday (10/17 - 11/14) from 1:30 PM to 3:00 PM.
Description:
We will read one section of the book each week (approx. 75 pages) and the instructor will send out guided questions for discussion the week prior. How did homo sapiens go from being "an animal of no significance" to dominating all of life on earth? This is the provocative question that Yuval Harari answers in his now classic, globally best-selling book "Sapiens:A Brief History of Humankind". Harari contends that at the core of human success as a species is our ability to create fictions. Believing in these fictions or myths enables us to cooperate in large numbers in ways that our closest ape relatives cannot do. In our course, we will examine the way in which religious, political and monetary fictions have spurred our progress as a species—and also resulted in our inadvertently becoming "ecological serial killers". We will follow Harari as he looks at the past to explain the present—and then projects into the future as homo sapiens meld with AI to potentially create a new form of being.
Course Leader:
Jessica Bethoney was a professor of cross-cultural studies at Bunker Hill Community College for many years. She has also facilitated courses at other lifelong learning programs: Bolli, Regis College and LLAIC. Previously, she facilitated a course on the pandemic for LLI. Currently, she is tutoring Afghan women via Zoom who are at home because of the closure of schools by the Taliban.
Course Materials:
The book "Sapiens: A Brief History of Humankind" by Yuval Harari;
His TED talk: The Rise of Humans; and
TED Talk "How Language Transformed Humanity" by Mark Pagel.
Assignment before the first class:
Read Part 1 of "Sapiens": The Cognitive Revolution.Watch Harari's TED talk: The Rise of Humans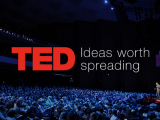 Ted Talks: A Cornucopia of IDEAS

Oct 18, 2023 at 10:30 am

, runs for 5 weeks
 Schedule: 
This course will take place on Wednesdays at 10:30 AM for five weeks (10/18/23 - 11/15/23).  This course will be on Zoom.
The TED Talks website tells us that the organization is "on a mission to discover and spread ideas that spark imagination, embrace possibility and catalyze impact." And Rainbow students are among the hundreds of thousands  of people around the country who turn to them, in person or online, to encounter often provocative new material from a wide variety of disciplines. For this course, a different facilitator each week will present one or two TED Talks to view together in class that present ideas that will illuminate and challenge us. The presenters, all members and friends of Rainbow, will frame the talks, and facilitate group discussion. This class is a great opportunity to be exposed to new ideas, participate in a lively discussion forum—and get to know each other's thinking in greater depth.
Subjects this Semester:
10/18 The New Great Power Competition, David Rooks The USA has entered a period of intense geo-strategic competition with China--a discussion of the ongoing fight for global influence and control, and how it will impact our lives.
10/25 Living and Dying with Dignity, Alison Morgan Alison, who cared for her own dying mother, will lead an exploration of the challenges of caring for ourselves and our loved ones at end of life, including palliative care and Death with Dignity.
11/1 Queers in the Military, Marvin Kabakoff Brief history of queers in the US military. Discussion will include personal experiences, whether or not queer people should serve, and is serving a plus or minus for our community?
11/8 Spammers, Scammers and the Biggest Scam of Them All, Gail Leondar-Wright How one person got the best of a would-be scammer, how sometimes an internet scam is not at all what it appears to be, and how economic inequality is the biggest scam of all.
11/15 Free Speech, Hate Speech, Fake News: Whither the First Amendment?--Carole Friedman We all "believe in" the First Amendment, right? But what exactly does that mean? Can the media spread lies, spew hate speech, promote violence? 
Required Course Materials:
None
Will run