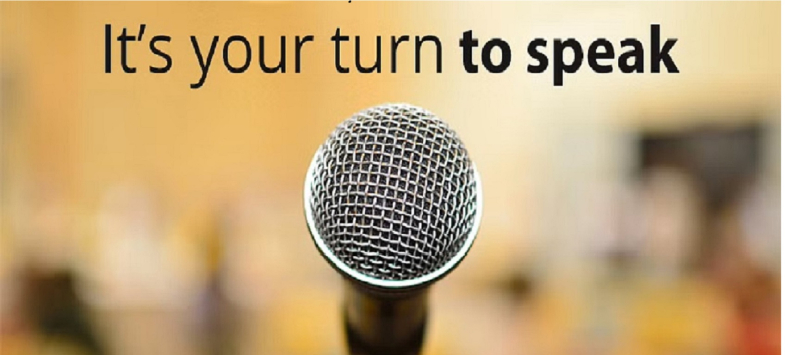 Public Speaking For You
with Carolyn Jenkins
$2000
Schedule: 
This course will take place on Tuesdays at 1:00 PM for five weeks (1/17/23 - 2/14/23).  This course will be on Zoom.
Course Description:
You're up there—on stage. Whether it's a community forum, a wedding toast, a eulogy, or some other occasion, you need to speak. What do you do? Let loose a spate of um's and er's? Or take a breath, raise your head, and speak gracefully and eloquently? Would you like the self-confidence to speak effectively and comfortably whatever the occasion? This course gives you the knowledge and the practice to be heard, remembered, understood, engaging, and effective so that you are successful. Success breeds confidence. Ultimately, Public Speaking for You will boost your self-confidence.
We'll start with the speech opening. You want to be heard, to be listened to, so this opening is critical. It sets the stage for your speech and engages attention. In addition to being heard, you want to be remembered, and that's where story comes in. It's hard to overemphasize the importance of story in public speaking. You'll learn five elements of storytelling that will give sparkle to your stories. You want to be heard, you want to be remembered, and you want to be understood. That's where the delivery comes in. Your speech needs to be coherent, but mostly it needs to be delivered effectively. The best speakers aren't afraid to use humor. A bored audience stops listening. You want to be engaging so your words have impact. We'll explore the difference between added humor and "found" humor and how the latter trumps the former.
Course Leader:
Carolyn Jenkins is an avid Toastmaster, a Certified World Class Speaking Coach, and author of 7 Seconds to Connect: 3 Steps to Engage Your Audience with Confidence. Her day job involves hypnotherapy and aromatherapy, but her passion is public speaking. Carolyn used to fear extemporaneous speaking; now she thrives on it! It's an exciting world out there, and Carolyn is delighted to teach what she has learned to perhaps spark someone's interest in speaking.
Jan

17

-

Feb

14th

,

2023

Tue

for

5 weeks

from

1:00 - 2:30 pm
Online Class
For more info, call us at RainbowLLIBoston@gmail.com